This is the website of Mary Wang.
What does Mary Wang do, except to write about herself in third person?
See below, or
get in touch.
Things Mary Wang does

Mary Wang is a writer and editor based in New York.
She's working on a novel about an Asian supermodel whose career implodes once it becomes clear she might not be so Asian after all. She read an excerpt at the
Center for Fiction
, where she was a 2021-2022 Emerging Writers Fellow. Here's
the link
(start at 58:48).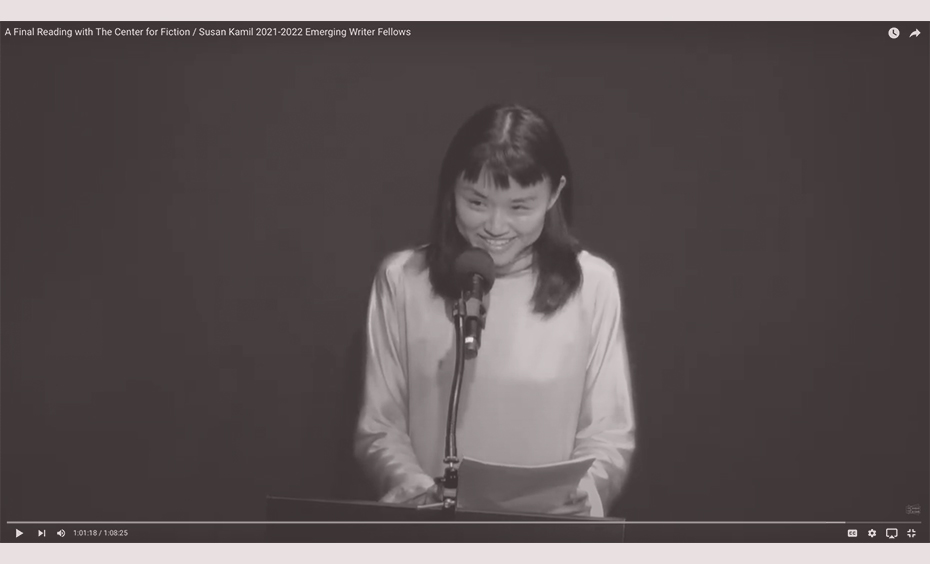 She's also working on a collection of ghost stories about the displaced, alienated, and others who can't find a home in modern society. One of her stories, "The Child Is A Mother Too", was a finalist for the 2022
Zoetrope
Short Fiction Competition and the 2020
Missouri Review
Jeffrey E. Smith Editor's Prize. Another,
"Most Chinese People"
, was published by the
Center for Fiction
.
"Luckily, living as a ghost in the Netherlands wasn't that different from living in the Netherlands while alive. I didn't have that many people to speak to either way, and I had already gotten used to a certain aimlessness."
Of course, Mary Wang also writes about Mary Wang. In an essay for
Vestoj
titled
Expecting
, she wrote about how, in a society in which every aspect of pregnancy has been commercialised, miscarriage still carries little capital .
"A pregnancy protrudes. It heightens and widens and deepens to take up space. Miscarriage empties. The fetus leaves the body, the hormones flush out, whatever visions for an expanded family suddenly no longer perceptible. I wondered whether the problem of miscarriage was a lack of imagination. It couldn't be dressed up, packaged, sold."
Speaking of women and images, here's an essay she wrote for
Michigan Quarterly Review
dissecting the sad white women she grew up admiring. It was listed as a notable essay in
The Best American Essays 2021
.
"The sad white women I loved were castrated femme fatales, Medusas with their locks cut off. All the sexual fervor without the consequences of their thirst, a guarantee that the damage they inflict can only be directed towards themselves."
She wrote an essay for
Longreads
too, in which she finds ten different Chinese translations for the word care to understand why her family kept her grandmother in the dark about her cancer diagnosis.
"
The traditional Chinese character for medicine — 醫 — contains the symbol used for alcohol. The doctor's role was both to operate on bodies and to provide adequate anesthesia: A doctor was defined as much by how he could improve health as how he could reduce pain
."
Have you noticed how much Mary Wang writes about fashion? Well, she was a
Vogue
editor after all, where she documented the mundane melodrama's found on models' Instagrams and wrote pieces like this, a
review
about a controversial show on Chinese art that seemed to say more about America itself.
She also ran an interview series at
Guernica
called
Miscellaneous Files
. Set up as a virtual studio visit, the series asks writers to share images, videos, and other digital artifacts as a way to discuss their practice. In one of the interviews,
Hilton Als
told her,
"
If you grow up in a society where your queerness is reviled or criticized, you learn to save yourself by not speaking. And it's taken me a long time to get to the point of not
not
speaking.
"
For
Guernica
, she also edited
Clothes, Interrupted: An Anthology on Fashion and Time
. Published in 2020, a year of disrupted supply chains, canceled fashion weeks, and repeated lockdowns, the book explores
"what happens when the relationship between fashion and time starts to feel distanced, socially or otherwise.
"
Contributions include Victoria Blanco's reportage on how an Indigenous community in Mexico uses dressmaking to resist assimilation and Jonathan Michael Square's research on how enslaved people contributed to fashion history.
Thank you for reading, and please do
get in touch
. I'm sure Mary Wang would love to hear from you!
---